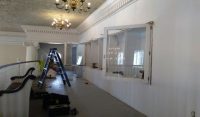 The Heritage Museum and Cultural Center in St. Joseph is planning to reopen to the public next month. Curator Tracy Gierada tells WSJM News repair work is coming along nicely since the museum had to close in December due to flooding caused by the HVAC system. Since then, a crowdfunding campaign to get a new HVAC system has raised $53,000, more than the $50,000 needed to get a match from the Michigan Council for Arts and Cultural Affairs.
"We are so incredibly grateful," Gierada said. "I mean, what an awkward time for us to launch a campaign. It was only a few days before Christmas in the holiday season. It was wintertime. We were really, really, grateful to all of the people who went to that website and made a contribution.
Gierada said the museum is also grateful to all of the people who made contributions in person. She says there are now plans to do more than $100,000 of work and improvements at the museum. The Heritage Museum and Cultural Center will open for its first public event on March 22, hosting LEGO Carnivale in partnership with the St. Joseph Library. The museum will be fully open again in early April.