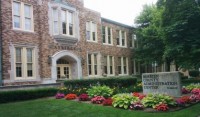 There could be a buyer soon for the vacant Alreco property in Benton Harbor. The place used to be an industrial site, and it's now in the Berrien County Land Bank with it having been taken in foreclosure. The land bank is looking for a buyer, and Benton Harbor City Commissioners this week heard from realtor Robert Winters a Holland firm is interested in acquiring the roughly 10-acre parcel.
"They have agreed to buy the property and develop it into an entity that would be attractive to an industrial concern or a commercial concern," Winters said.
The Al Reco property is on Al Reco Road near Paw Paw Avenue in the city. Winters asked city commissioners this week to endorse the sale to the interested buyer identified as Riverside Partners LLC. He said the idea is to lure in a development that could lead to hundreds of jobs. Commissioners did not comment. The Berrien County Treasurer's office tells us the land bank will review bids for the property on February 15. Also up for grabs is the former Mercy Hospital Property in Benton Harbor. So far, it has no bids.