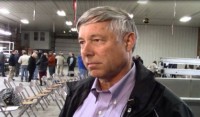 There is a wave this year of members of the U.S. House and Senate deciding they will not seek re-election. Congressman Fred Upton had weighed running for the Senate instead of the House, but recently decided to go after a 15th two-year term instead. He tells us he's not too shocked by the number of colleagues deciding they're done.
"In probably in the next month or so, we'll hear from a number of other members, Republican and Democrat, that are saying they're not going to run again, and it's part of the normal process every two years," Upton said.
Among some of the more high-profile retirements have been the resignation last year of Congressman John Conyers of Detroit and the announcement by U.S. Senator Jeff Flake of Arizona that he will not seek another term. Flake is said to be considering a challenge to President Trump on the Republican ticket in 2020. Another U.S. House member from Michigan not running again is Congressman Sander Levin of metro Detroit.