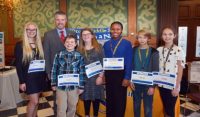 State lawmakers on Wednesday welcomed students from all over Michigan to the capitol in Lansing for the 17th Annual Student Technology Showcase. Among the schools on hand was Upton Middle School in St. Joseph, invited by state Senator John Proos. He tells WSJM News the kids showed off an exhibit called "That Moment When: A Facebook Comment Led to Celebrity Connections Beyond the Classroom."
"The students from Upton Middle School did a great job of showing an exhibit that talked about just exactly what is in a name, and then identified what our names are, how they introduce ourselves to the people that we hang out with and the people we talk to and the people we work with," Proos said.
The demonstration required the use of long-distance communication. Proos says the point of the day was to highlight the ways technology can enhance classroom learning.