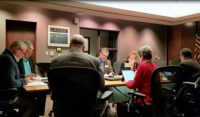 The Lake Michigan College Board of Trustees has approved a settlement with former LMC President Jennifer Spielvogel. In a 4 to 3 vote Thursday night, the board moved forward a plan that could bring Spielvogel's wrongful termination lawsuit to an end. LMC Board of Trustees President Michael Lindley told WSJM News the split vote was no surprise, given the nature of the issue. He says it's natural some trustees would have concerns.
"I'd go so far as to say even people who voted yes had some concerns," Lindley said. "You don't get into a complex issue like this without having a lot of issues and looking at the big picture."
The settlement approved by the board on Thursday is confidential for now.
"There still needs to be some action by Dr. Spielvogel and her team, and the judge is also involved," Lindley said. "We anticipate that should be wrapped up by mid to late next week."
Spielvogel was fired by Lake Michigan College in May of last year with the college citing a variety of reasons. Spielvogel sued the following month. She has since found work elsewhere. LMC President Trevor Kubatzke told us the settlement can hopefully allow the college to move forward. We'll know more next week.