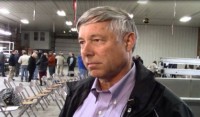 As negotiations are made to reconcile the U.S. Senate and House tax reform plans, Congressman Fred Upton will be in the mix. House Speaker Paul Ryan on Wednesday announced Upton will be part of the conference committee on the package. Upton told WSJM News this week there are some major differences between the two plans.
"The Senate repeals the individual mandate on health insurance," Upton said. "The House bill retains the upper tax bracket for those earning more than one half of a million dollars. The Senate's top bracket is less than that."
Upton tells us it will take a good deal of work to resolve those differences. Still, he expects Republicans to be successful in pushing through a tax reform plan by Christmas.