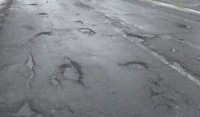 A repaving project is about to get started on I-94 in Van Buren County. Michigan Department of Transportation spokesperson Nick Schirripa tells WSJM News  they'll start the work on eastbound 94 between 56th Street and M-51 Monday. The work will continue through late August.
"It seems big," Schirripa said. "It's a $9 million investment, but it is I-94 and so it's something we need to do."
Schirripa tells us the project will mean night time single-lane closures. That's 9 p.m. through 9 a.m. All lanes will be open during the day. MDOT is hoping that will make life easier for commuters.