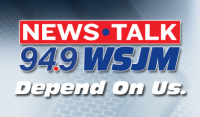 The search continues for a missing kayaker in the Paw Paw River near Watervliet.
The Berrien County Sheriff's Department's initial estimate for flood damages is about $3.5 million.
Van Buren County sheriff's deputies are investigating the shooting death of a man in a mobile home park outside of South Haven.
Podcast: Play in new window | Download | Embed
Subscribe: Apple Podcasts | Android | Email | Google Play | Stitcher | RSS | More