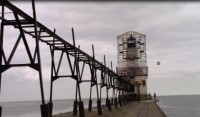 A special honor for the city of St. Joseph has been announced. On Thursday came word it's received a 2016 Governor's Award for Historic Preservation for work at the lighthouses. The rehabilitation of the North Pier Inner and Outer Lights is one of six projects receiving the award this year. St. Joe City Manager John Hodgson says the project should be wrapped up by the end of May.
"You're going to see most of the exterior work on the lights finished by the end of this month, and the most conspicuous thing folks will see is the installation of a replica smokestack on the inner light, which was removed in 1949," Hodgson told WSJM. "So, it's been 67 years since that's been in place."
The Lighthouse Forever Fund raised more than 1.8 million dollars of a 2 million dollar goal to restore and preserve the North Pier lighthouses, while the city picked up the rest. Hodgson says they're restoring the landmark to its 1932 glory days. The lighthouses were originally built in 1907.